from this existence:



to this: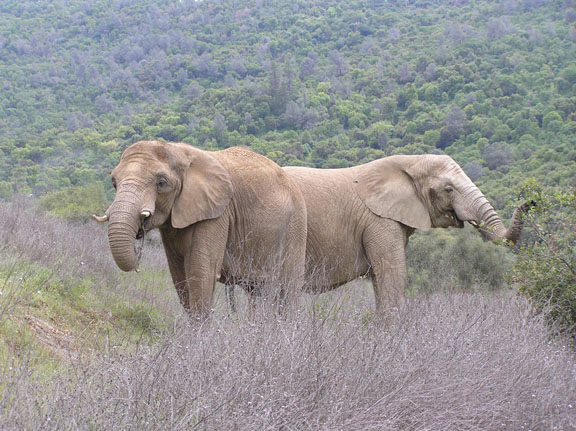 After years of living alone in conditions* pictured above (first photo), the Alaska Zoo has agreed to move Maggie, a captive African elephant, to the Performing Animal Welfare Sanctuary (PAWS) in San Andreas, California. The news is posted on the Friends of Maggie website.

There she will share a large habitat with three African elephant gals named 71, Lulu, and Mara.

This decision was made easy for the zoo, thanks to the generosity of Bob Barker who offered to donate $100,000 to the zoo to do with as they wish, and another $750,000 to PAWS for the ongoing care of Maggie. Bob has long been a supporter of PAWS and a fierce advocate for captive wildlife. (My guess is the Price was Right for the zoo! The pressure's been on the zoo for years to move her and they've refused to budge before now.)

Bob Barker's announcement on YouTube.


The state of Maggie in the Alaska zoo:
- Living alone is detrimental to the well being of elephants. They are social, highly complex creatures. In the wild they live in herds and have bond groups. Maggie has been without elephant companions for years.
- Living in a climate that forces her to be indoors for up to nine months of every year. The indoor life means a cement cell with only a few toys and, in Maggie's case, a treadmill for exercise. (Yes, the zoo spent thousands of dollars on a goddamn treadmill thinking that would do the trick. Maggie refused to use it. She has never used it.)

Life will soon be very different, Maggie. Relief from arthritis (caused by standing on hard floors), no more pressure wounds, no more bobbing and swaying, now more rubbing your flesh against concrete until it bleeds, no more grinding your tusks to stumps on a brick wall. No more despair and frustration. No more loneliness. (Oh, and no treadmills, just trails!)

* What you see in this photograph is typical of zoo life for most captive elephants, and indeed most captive wildlife all over the world. Many zoos still operate as if it's the nineteenth century, stuffing animals in inadequate spaces to be exhibited to the public. Although zoos now use the language of conservation and education to market their "product" and their breeding programs, they are first and foremost a business. Not surprisingly, most zoos do not make a lot of money - some barely break even. Most either cannot afford - or are unwilling to spend - what it takes to create a suitable environment for captive wildlife, and they always put the needs and interests of their human visitors first. Genuine sanctuaries are viable alternatives. (Note: unfortunately, some outfits are exploiting the Sanctuary label to make a buck. For example: the Scott Riddle "school of elephant management" in Arkansas. Riddle has a long history of cruelty toward elephants. If an organization is not recognized by TAO, it's probably not a sanctuary. Buyer beware!)

I'd like to add that many people who work with animals in these conditions often see nothing wrong with them and believe they are being kind and loving. I've met many zoo keepers and volunteers who genuinely love the animals in their care. (Most are powerless to do anything to change the conditions and merely do their best). What boggles my mind is anyone defending this as a way of life for an elephant. I'm appalled every time I hear someone claiming this is a loving or even an adequate environment when all the evidence screams it is the opposite. We wouldn't treat our dogs and cats this way but think nothing of throwing a huge wild animal in what is virtually a prison cell for its entire life. Who does the cage serve and benefit? Certainly not the animal.

Humans can be very strange and scary sometimes.

If someone put me in a cage and told me it was his or her way of loving me, that it was good for me I'd want to kill myself.